Suicidal Thoughts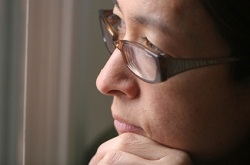 Dear One,
This is a direct assault against you from the evil one.
Here's what you need to do. Pray this prayer. Dear Lord, I give you my life, I give you my mind, I surrender to you my thoughts of suicide. Please hush the enemy's voice. Please cut the connection from the enemy to my mind. In your son Jesus' name.
NEXT SAY:
I say to you evil one. You have to right to haunt me with your lies. I bind you in Jesus name and in the power of His blood and resurrection.
You may have to pray this prayer again and again. Day after day. But the visions and thoughts will stop. Blessings, Linda P.S. The enemy knows that God has a purpose for your life and he's trying to stop it. Don't let him. Stand, in your love and God and God's love for you, and you will defeat the evil one.
Do you go to church anywhere? If not, find a church. Talk to the pastor and tell him how you are feeling. But most of all, keep doing the next thing. I'm not promising that you will not have losses, but keep praying, seeking God, and His direction. Keep your head high in this storm and one day, it will pass. The sun will shine again. And this dark period of your life will be behind you. There is hope Jeremiah 29: 11 - 13 says "For I know the plans I have for you, declares the Lord,...plans to give you hope and a future.... You will seek me and find me when you seek me with all your heart."

Keep seeking, keep walking, and God will see you through this.

In the meantime, please go get a check up from your doctor and tell him how you are feeling. If you think you are at risk for suicide, please go to the hospital or call 911. Do not do anything to harm yourself, you are going to make it. A really good book on this is Where is God When it Hurts by Phillip Yancey. God is going to see you through this dear one. Please, please do not do anything to hurt yourself.
You are going to make it. I'm praying for you. God is going to see you through this dear one. Please, please do not do anything to hurt yourself. Wait on God. In the meantime, if thoughts of suicide get too heavy, go to the hospital or call 911. Call your doctor as well.

Here's what I recommend to you:
We need other believers for encouragement. Find a church home. See if you can find a small Bible study of people in your age range. Call some of the bigger churches in your area and see if they have anything to offer for your age group. This could be a home Bible study or a Sunday school class.
Listen to inspirational music. There's a lot of Christian music in different styles. Maybe you've got a great Christian radio station in your area or maybe you can find one on the web that plays a style of Christian music that speaks to you like http://www.klove.com/listen/. You can also go to a Christian bookstore and listen to their CDs until you find something that helps you to feel worshipful.
Read the book, Purpose Driven Life. This is a great Bible study and you need to have the Word in your life every day.
Take time to read the Bible. If you don't have a Bible, there are versions available on the web that you can download.
Don't do anything to harm yourself. You are so loved. Please give your situation time, please allow God time to move. He may be waiting for you to give in to Him, to say, God I will trust you, no matter what. Try trusting God and see what will happen.
Also, please go in for a medical checkup and tell your doctor about how you feel emotionally. Your doctor may have medications that can help you get over this 'bump' in the road.
Also, I highly recommend counseling. You may find a pastor in your church or other local church or some other professional who will understand and help you with your struggles.
WE ARE PRAYING FOR YOU!
Blessings,
Linda